"We are humbled by the support and recognition given to those who have served and gone before us, and in particular for the impact this recognition has on families."
Content of the article
Dozens of people gathered at the National Military Cemetery on Sunday to lay thousands of wreaths, many of which were assembled by volunteers mobilizing to replace the 3,000 wreaths intended for the graves of Canadian veterans that were stolen the last week.
Content of the article
The stolen wreaths were made from wild vines and were taken from the Maxville property of Robert and Jodie Tessier on November 28. Volunteers showed up to produce and decorate new wreaths with fir branches, ribbon and red berries this weekend.
Nick McCarthy, vice-president of Wreaths Across Canada and director of marketing and community outreach at Beechwood Cemetery, home of the National Military Cemetery, said Sunday the theft amounted to a loss of about $20,000, but that the group couldn't be "moved more" with the help of the volunteers.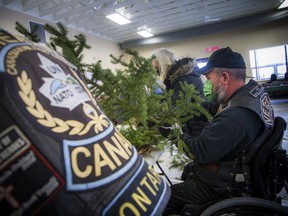 "It made everything worth it, it made everyone happy. This is an event that brings joy to many military families. It's not a time of sadness, it's not a time of remembrance like Remembrance Day, it's really a celebration of service," McCarthy said.
Content of the article
"You're browsing the news, you're going through the last two years of the pandemic, and people are looking forward to getting together and doing something," McCarthy said of the volunteers and wreath-layers, noting that those in attendance were masked as they reunited.
Volunteers had cut the vines for the original wreaths on area properties and hand-stitched them as part of an effort, organized by Wreaths Across Canada, to honor 6,024 fallen soldiers buried at the National Military Cemetery with Christmas wreaths.
The group were about 300 crowns short at the time of the ceremony on Sunday afternoon, but those replacements also needed to be completed.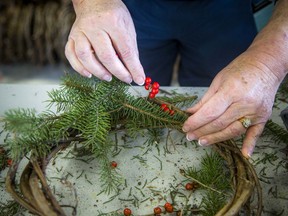 Erika Wagner, a member of the registered charity's board of directors, said nearly 1,000 wreaths were finished on Saturday afternoon by volunteers working inside the Memorial Cross Building at Beechwood Cemetery, with a third shift of 20 volunteers expected to work until 6 p.m. in an attempt to complete another 1,000 wreaths, with further work taking place on Sunday morning.
Content of the article
Geraldine Dixon, business development manager for Chartwell Retirement Residences, said on Saturday she responded to the request for help after hearing about the "heartbreaking" theft. "We want to give back," she said.
Jocelyn Wigginton, 25, who works at Chartwell Rideau Place, volunteered on Saturday because she wanted to do something about the absurdity of crown theft. "Why would anyone do that at this time of year?" With this cause? she asked.
"When my husband and I heard the news of these thefts, we were just appalled and wanted to try and help fix this," said Lorraine Alexan, a retired wealth manager who has volunteered with her husband, Karim.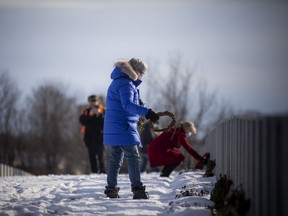 "We are humbled by the support and recognition given to those who have served and gone before us, and especially for the impact of this recognition on the families," said Brigadier-General Dyrald Cross, commander of the United Nations Transition Group. Canadian Armed Forces, which manages the national military cemetery.
Wreaths Across Canada Inc. is a nonprofit group started in 2007 by Canadian Forces veteran Craig McPhee, who was moved by the way American veterans were honored each December at Arlington Cemetery. Each tombstone had a crown placed at its base.